Language:

Server time, when the page was downloaded:
Tuesday
04.10.2022
17:55:51
week 40
day 276 of this year
ehalm.at QR_CODE:


Print Page

Android - AVD 4.3 with Play Store, SuperSU and more.
Here you can download a Android 4.3 system.img with Play Store, SuperSU (root) and more for Android SDK AVD (Android Virtual Device).
Google Apps (Google Play Store, Google Sync, Gmail, ...) included.
Rooted, SuperSU and BusyBox included.
ES File Explorer (can be used as root-explorer) and Titanium Backup included.
Screenshot: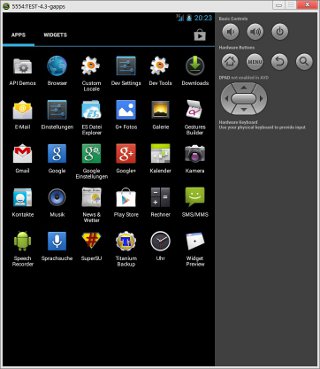 Instructions:
To use the system.img create a new AVD. Then unpack the system.img to "C:\Users\USERNAME\.android\avd\NAME.avd\". USERNAME and NAME.avd have to be adapted. Now the AVD can be started.
Tip: To "slide" the keyboard (turn display) disable numlock and press 7 on the number pad (Fn+7 with notebooks).
Download system.img:

sdk-avd-4.3-gapps-su-busybox-es-tb_v1.1.zip
201.815 KiB

---

---
If you have questions you can e-mail to webmaster@ehalm.at.
Datenschutz
,
Impressum
Your IP is: 3.235.65.220
Your Host Address is: ec2-3-235-65-220.compute-1.amazonaws.com
Server time, when the page was downloaded:
Tue - 04.10.2022 - 17:55:51 - week 40 - day 276 of this year